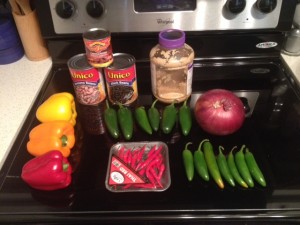 Here's a little protein salad that I have been modifying and improving for my taste for the past several months that might be to your taste as well. I recently started incorporating Serrano peppers and more recently Chipotle peppers in Adobo Sauce into this dish that together took this salad into the upper reaches of the atmosphere in terms of the salad's kick. Holy Mama!
The ingredients shown in this image are the perfect combo for making 6 x 2 cup salads that you can prepare ahead, and make a week's worth of French kissing the devil.
Each salad has:
3/4 cup Black beans
3/4 cup Romano or Kidney beans
1/2 cup of chopped red onion
3 Stoplight peppers (chopped and split evenly between 6 salads)
2 Chipotle peppers with Adobo sauce
1 heaping tablespoon of minced garlic
1 Serrano pepper
1 Jalapeno pepper
3 Red Thai Chili peppers
1/4 cup of dried cranberries
The important part of this salad is to use olive oil as the dressing (instead of eating the salad with nothing at all). Some fresh ground black pepper tops it off.
My mouth is watering just thinking about it. Makes a great lunch all by itself and will power you through the whole afternoon. Add or substitute your own favorite ingredients to make it your own.
Next stop: Habanero peppers